Dear Parents and Guardians – there is SO much going on right now and we understand parents have tough choices to make about what learning environment is best for each of your children. We realize there are a variety of differing perspectives and comfort level with the District's Reopen Plan and the Yellow Level of Operation the Board voted to begin our school year in.  What remains unchanged is the love and care we have for each of our students.  I can promise you that our staff has worked countless hours preparing for the students to return – they are excited and anxious to start the year.  Our plan is to provide a quality learning environment, no matter the color level.  Please know that we support your right to make the best decision for your child's learning and we hope we can be part of that team this year.  Thank you for your continued support and encouragement – we are EXTREMELY excited to welcome our students back, whether in person or online, on September 8, Dr. Meyer, Superintendent
Have you Registered Yet?
If you have not already completed registration for either In-Person schooling or the Lakeland Online Academy, we ask that you please do so as soon as possible.  This will help our schools with scheduling and planning for the quickly approaching school year.
Opening in Yellow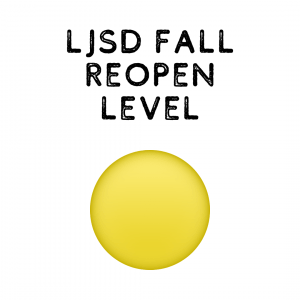 The first day of school is Tuesday, September 8, 2020.  In the Yellow Level of Operation, LJSD students will attend school 5 days/week in-person (Monday through Friday) with a 1-hour early release schedule daily.  In order to allow for greater social distancing, there will be no prep periods during the student contact time and all staff preparation time is built into the end of each day.  Face coverings (masks/shields) will be recommended where social distancing cannot be maintained.  We truly heard how difficult remote learning was for families last spring, so our goal is to keep schools open in Yellow Level for as long as possible.  We need parents' help –  please read and assist us with the guidelines in "Keeping our Students Healthy" below.  Together, we can keep kids in school! 
Keeping our Students Healthy
Lakeland Joint School District school health services are looking forward to students returning to school.   This year in addition to the general illness guidelines,  we will be addressing COVID-19.   This virus shows no boundaries.  It will take all of us working together to get our schools back to "normal" for you, your children, and the school district staff.   
What you can do to help: 
Please do a simple health screening of your child daily before school: How-To

 

At this time the Center  for Disease Control does not currently recommend that schools conduct universal symptom screening (screening all students as they arrive at school). 

Please keep your child home from school if you answer yes to any symptoms in Section 1. 

Please do not send your child to school and notify us if your child has a positive COVID-19 test, symptoms of COVID-19, or they were exposed to someone with COVID-19 within the last 14 days.
What the school district will do to help:
If your child has symptoms of COVID-19 at school, your child will be isolated and you will be notified to pick your child up from school.  (per CDC guidelines). 

It is very important that the school has up to date contact information for all parent/guardians.  In addition, the school needs at least one other contact person to call in the event that you are not available (this will be the emergency contact in Skyward when you register).   

We will advise sick staff or students not to return until they have met CDC criteria to discontinue home isolation. 

When the District learns of a student or staff who has tested positive for COVID-19, has had contact with a person who has tested positive for COVID-19, or is showing symptoms of COVID-19, the school district health services team will: 
Respond and determine an appropriate course of action

Isolate and send ill students or staff home 

Communicate with all affected individuals and initiate contact tracing  

Contact Panhandle Health District and coordinate necessary steps to protect the school population  
Judy Gerstenberger R.N., B.S.N., School Nurse Lead 
jgerstenberger@lakeland272.org  208-691-2648
Resources: CDC and Panhandle Health District
Internet Options
We realize that for some families, internet connectivity is a challenge.  There are several options available to work through this obstacle:
A limited number of hotspots will be available
Families will have access to internet in the parking lot of every school
We have 3 buses with mobile hotspots that will be staged in rural areas of our district for families to access wifi by parking next to the bus
Google Classroom platform allows students to work offline while at home and then the student will be able to download all work and capture new assignments when they hook up to wifi at the school or a mobile hotspot
Local restaurants and libraries have free wifi – check out your local area
Nutrition Services Plan
With Lakeland schools opening in the Yellow Level on September 8, we want families to be able to plan for what breakfast and lunch services will look like.  Our Nutrition Services Team has a detailed plan to help students prepare for the upcoming start of school.
Student Transportation
Our Lakeland Transportation Team is gearing up for a new school year.  If your family will be using our bus transportation, we ask that you please complete the Lakeland Schools – Request for Transportation 2020-21 School Year Form.
Student bus route information can be found on Skyward Family Access under the Bus Transportation section
If your students bus transportation information is missing or incorrect, please contact our Transportation Department at 208-687-0221
BASE (Before and After School Enrichment) Program
CLICK HERE for more information.
Thank you Parents and How You Can Help Start the Year off Right 🙂
Free Developmental Screening Coming Up
Parent Resources
Need Skyward Assistance? helpdesk2@lakeland272.org
2020-2021 Free and Reduced Lunch Application
Zone Transfer/Open Enrollment Form 
LJSD Technology Resources for Parents Website – CLICK HERE
Food Bank locations in Kootenai County – CLICK HERE
Idaho Stages of reopening – Governor Brad Little