Dear LJSD Parents,
As we begin holiday break, I am reflecting on just how much we have accomplished in 2020.  With the help of our strong families and dedicated Lakeland staff, we have successfully kept our students in school five days a week!!  While this has not been an easy feat and many obstacles have had to be addressed, I am so proud of our District's commitment to provide a stable educational environment for our students.  We are blessed with the flexibility and gratitude families have shown towards everyone in the District.  Though 2020 has thrown us personal and professional challenges we never would have imagined, the support shown to our schools is something we can all be proud of.  During the next two weeks, I hope you find time to relax, decompress, and enjoy your family and our many blessings.  We look forward to a bright new year and a great second semester!
Sending well wishes for a Merry Christmas and a very happy New Year!  Much Gratitude, Dr. Meyer, Superintendent
Fall Season in our Schools
We have finally seen some snow in this very mild fall season and our students take full advantage of the fun that this weather brings.  The holiday spirit is in full swing and has brought a brightness to this difficult year.  Check out just a few of the awesome happenings going on over the past few weeks in Lakeland!
Reminder About Grab & Go Meals During Holiday Break
Our Child Nutrition Services staff wants to remind families that during holiday breaks, there will be no Grab & Go Meal pick ups.  School resumes on Monday, January 4, 2021 and Grab & Go Meals will start again and continue through the end of the school year.
Veterans Day Celebrations in the District
Veterans Day looked a little different this year in our District.  Instead of assemblies in each school to honor our veterans and invite the community in, there were in-class celebrations, virtual assemblies, and other creative celebrations.  Check out a couple of these video programs below.
Lakeland High School Volleyball Team  Wins State!
The Lakeland High School Volleyball Team traveled to Kimberly, Idaho last weekend and went undefeated the entire tournament!  The team, coaches, and families were so amazing during the entire tournament that the team also won the Sportsmanship Award, which is a great honor.  We cannot say loudly enough how proud we are of this team.  Way to go Hawks!
Check out the very kind email from a volunteer at Kimberly High School that spoke to the great things from everyone representing our District:
First let me answer what I assume is the question on your mind Who is this guy??".  My wife (Kathy) and I were handling admissions (ticket takers) at the State Volleyball Tournament in Kimberly last weekend.  Congratulations to the team and coaches on the win.  I didn't get to see much of the play but I was very impressed with what I did see.  We also what to congratulate the team, fans and other "Lakelanders" on receiving the Sportsmanship Trophy. We were, indeed, very impressed with the behavior and demeanor of all involved.  Some little things that stood out. As the team and others entered the building they all clearly showed me their ID badges and pronounced names clearly.  Nearly all replied to my "thank you, good luck".  The fans also were courteous and friendly during any interaction I had with them.  We were impressed with the mask compliance.  You have no idea how many times Kathy and I had to remind people to get mask on and keep the nose covered.  We got a number of disgusted looks and rude comments from some of the fans.  The Lakeland Hawk fans in the bleachers were very supportive of the team and ALWAYS very positive and respectful!  At the end of the day Saturday several fans and players thanked us for our time.  We were very impressed!  Overall, your community should be very, very proud of Lakeland High, the players and coaches and the fans who were there cheering them on.  Please convey our thoughts to the players, coaches and other support staff, and the community at large.
Thank you, it was a pleasure to serve you.  I sincerely hope that we did a good job on our end and that you all enjoyed your time at Kimberly High School.
Dr. Dave Makings
Congratulations to our Newest FFA Students!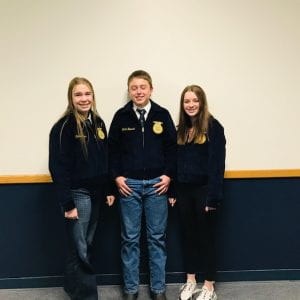 Timberlake High School FFA students competed in the recent North Idaho District FFA competition in Greenhand Knowledge. The team of Carlene Ross, Ethan Howard and Gracie Haeder placed second!! This is a huge accomplishment for these freshmen students!
March 9, 2021 Replacement Instructional (Supplemental) Levy
In the next few months, the District will be sharing out information via our Website and through the mail, creating mini-videos to answer questions we most frequently receive, and working to educate our community on this upcoming Levy.  This is a REPLACEMENT of the current Instructional Levy in our District (not an additional levy).  We encourage the community to call the District Office with any questions they may have.  Check out the postcard coming soon to your mailboxes HERE!
Resources for Parents
Modified Stage 2 (Current State Level) – Governor Brad Little
Need Skyward Assistance? helpdesk2@lakeland272.org
2020-2021 Free and Reduced Lunch Application
Zone Transfer/Open Enrollment Form 
LJSD Technology Resources for Parents Website – CLICK HERE
Food Bank locations in Kootenai County – CLICK HERE