Dear Parents and Guardians, 
Now that we are settled into the routine of school again, we can take a deep breath and look back at the amazing start to our school year!  I am so proud of our staff and all they have collectively done to maintain stability and a welcoming environment for our students, despite the very real challenges posed by the Covid, social distancing, etc.  As parents, I know how much you value  the dedication and compassion our staff demonstrates on a daily basis for our Lakeland family.  The 2020 parent survey you just completed showed that once again, our parents value our teachers and staff first and foremost, followed by overall district functioning and the family atmosphere.  Thank you for giving us your feedback – I have linked in the survey results below for your information.  We know this has been an extremely challenging time for everyone as we navigate a worldwide pandemic, and we certainly have areas to improve upon to better serve our families, but we are reminded of the reason the Lakeland District Family is SO strong — your comments reinforced the fact that we are only going to get through this TOGETHER 😁💖.  Thank you for being a flexible and supportive part of our school community, while simultaneously holding us to the high standards you expect from the District.  Your feedback is invaluable and very much appreciated.  Much Gratitude as we head into the month of appreciating our blessings (November), Dr. Meyer, Superintendent 
2020 Annual Parent Survey Results 
The School Year so Far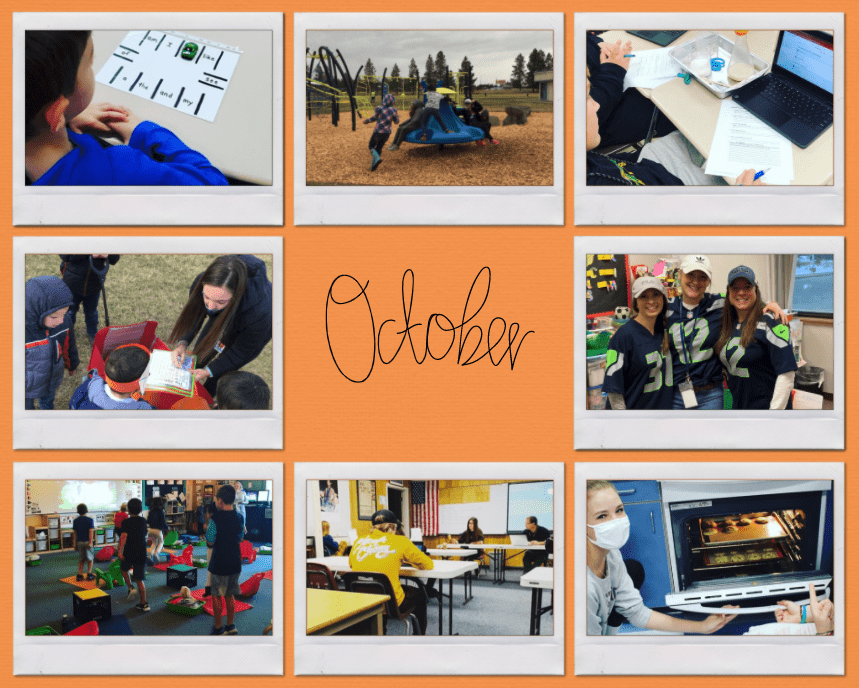 Fall Sports
Our fall sports season is winding down and we want to acknowledge how proud we are of all of our athletes.  This season has faced many cancellations and rescheduled events, along with some unexpected weather and our athletes have found success through it all!  Join us in wishing our athletes luck in the remainder of their season!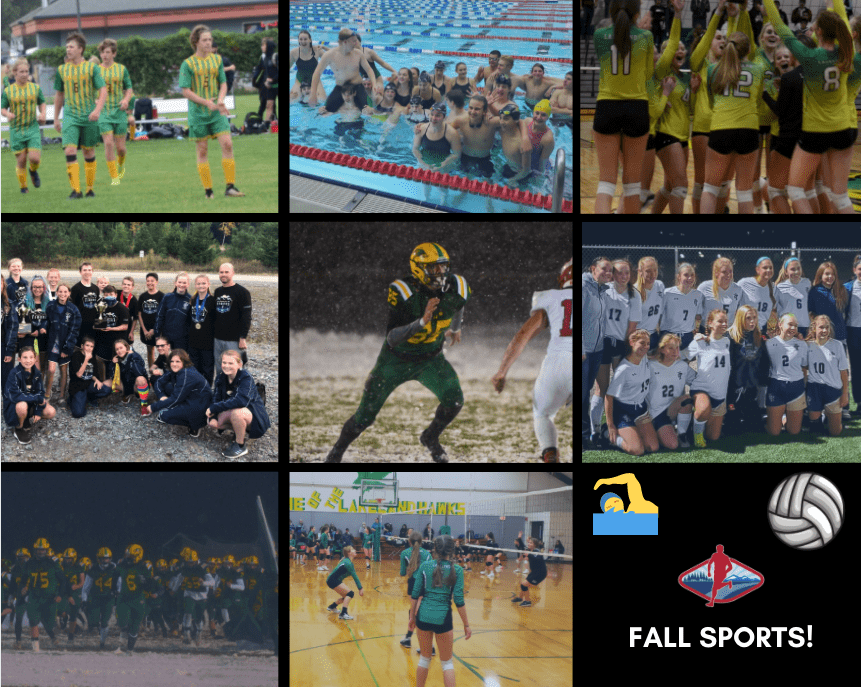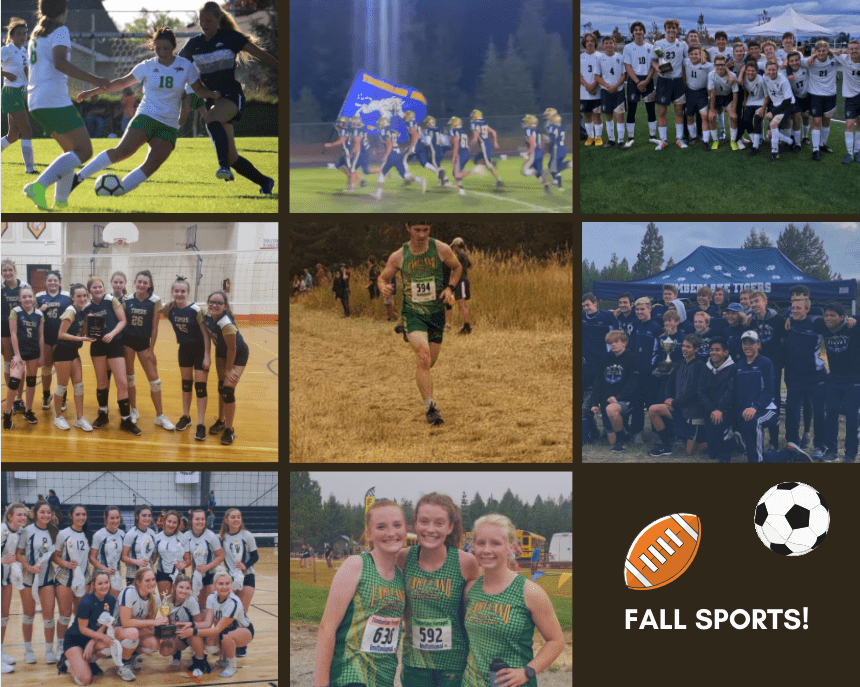 Election Day Coming Up!
Greetings!  Tuesday, November 3, 2020 is Election Day! With our strong focus on student safety and school security, we wanted to assure our parents that we are being mindful of the current tension around our national election next week and we are being intentional about how we structure our day; especially at our five schools which happen to be polling places.  Access to the polling locations will be provided in a way that keeps students and voting patrons separated at all times.  Administrators and safety personnel will be onsite to greet our patrons and ensure that the voting experience is pleasant and positive for everyone.  Warm Regards, Lisa Sexton, Assistant Superintendent
For more information on your polling location, registering, candidate information, and other resources – CLICK HERE
Save the Date!  March 9, 2021 Replacement Instructional Levy
On Tuesday, October 27, our Lakeland Board of Trustees were presented with options for the upcoming Replacement Instructional Levy.  They will revisit this topic at the November 10, 2020 Board Meeting as the District continues to move forward with planning.  You can view the presentation below and if you have questions or feedback, please send those to info@lakeland272.org
Nutrition Services
We want to remind our families that our Nutrition Services Team offer free Breakfast and Lunch five days a week to our students.  If you have a student that attends school via the Lakeland Online Academy, you can still pick up free breakfast and lunch daily at our two designated sites.  Breakfast and lunch will not be available on non-school days including holiday weeks where school is closed.  Go to the Nutrition Services page on the District website for more details. Check out the info below!
Fall Reopen Plan
Over the last month, the LJSD Board of Trustees approved amendments to the LJSD 272 Fall Reopen Plan.  These changes include updates to students returning to school, essential workers, and level of operation wording changes.  You can view the plan HERE.
Hiring
There are a variety of open positions available in our District in our BASE (Before and After School Enrichment Program), custodial, transportation, athletics and support staff departments.  These positions are part-time and full-time.  Check out our open positions HERE.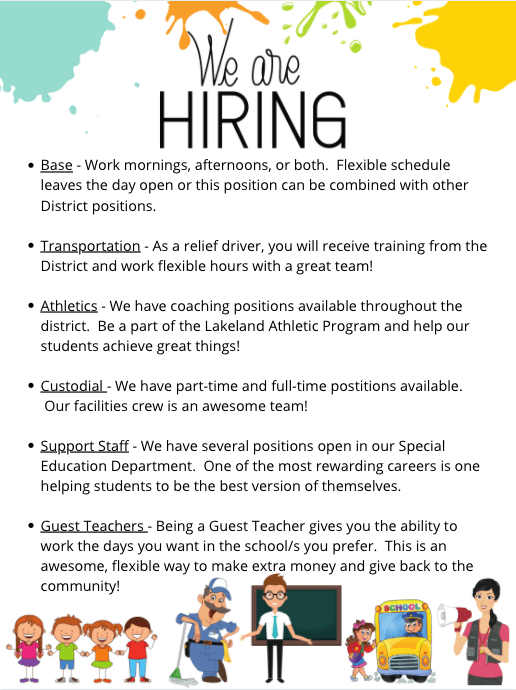 THS Alumna creates a Positive Message for Current Students
THS Class of 2020 Alumna, Freya Von Till, created this video for the THS student body and class of 2021. Thank you for the positive message Freya!  We don't know what this year will hold, but we want all of our students to enjoy and learn every day!
Coming up in November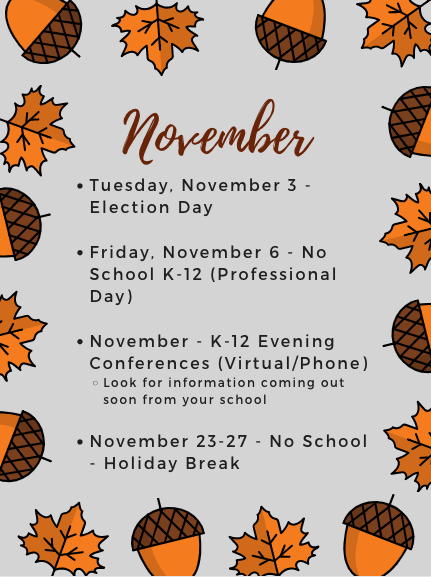 Resources for Parents
Need Skyward Assistance? helpdesk2@lakeland272.org
2020-2021 Free and Reduced Lunch Application
Zone Transfer/Open Enrollment Form 
LJSD Technology Resources for Parents Website – CLICK HERE
Food Bank locations in Kootenai County – CLICK HERE
Idaho Stages of reopening – Governor Brad Little